Construction of Rohan City has officially begun – Prague to get a new green centre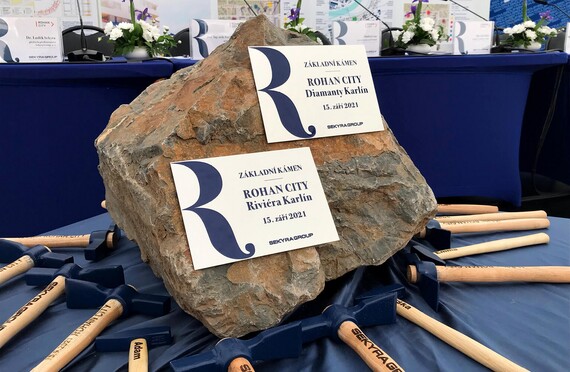 The project will include high‑rise residential buildings and the new headquarters of the Sekyra Group, designed by renowned architect Eva Jiřičná. In the course of the project a modern district will be created, including a kilometre‑long riverbank promenade for relaxation and sports, which will continue into a generously designed park. In the future, the promenade will be connected with a recreation island by footbridges. According to the plans, 11,000 people will live or work in the new Prague district upon completion. The total investment costs of the project, which will significantly change the face of the capital city, will reach 18 billion CZK.
 The launch of the project was preceded by thirteen years of preparation. This included a number of preliminary studies and public discussions, as well as discussions with leading urban planners and prominent architects from across the globe, with the goal of organically integrating the new district into Karlín's original buildings and opening the door to the 21st century.
"In the case of Rohan City, we focused on housing and public space, as this is the most valuable thing we can offer the city and its inhabitants. The key for us was the dialogue with the world‑famous urban planner Jan Gehl, as well as the idea of a city of short distances, where people, not cars, have priority. Western metropolises originated as homes for pedestrians. What gives our vision a universal character is continuity with the original essence of an urban home as a place for free encounters and the sharing of common space. Cultivating this vision is also a key factor in our other projects, such as Smíchov City, which will be bisected by a large pedestrian boulevard, or Žižkov City, where a revitalized railway station building will function as a public space. With this approach, we set new standards for the development of large areas," says Luděk Sekyra, Chairman of the Board of Sekyra Group.
To mark the laying of the foundation stone of Rohan City, Sekyra Group organized neighbourhood gathering called Pro Karlín, which featured a concert by Xindl X and a varied programme for the whole family, and where it presented its plans for the future of the new district to the public.