Smíchov City – North
Tradition and the future
Smíchov is a traditional Prague district with a rich history. On the northern side it is adjacent to the marvellous Lesser Quarter, and across the river is the venerable Vyšehrad castle. In the 19th century Smíchov became a centre of the emerging industry. At its heart is the important transport hub of Praha–Smíchov railway station. The Smíchov City project, which will sensitively fill areas vacated by the railway, an interesting future awaits this unused site. This is the largest-scale project in the modern history of Prague, and the plan for Smíchov City has also received positive reviews from UNESCO commissioners, who appreciate that the new development will not in any way disrupt the World Heritage site.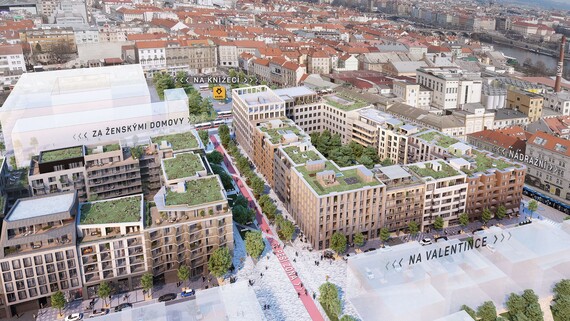 Northern phase
The first phase in the construction of Smíchov City, which predominantly provides housing, began in the northern part of the project in April 2020. This lucrative location will offer 55 000 m2 of apartments, offices and a non-residential ground floor with a growing number of services, restaurants and shops, including a supermarket.
Two typical city apartment blocks with 400 flats, 8 000 m2 of administrative space and approximately 6 300 m2 of retail space will be built near Na Knížecí square. The housing blocks are further divided into individual housing units. 195 housing units in the first block, SM2, have been on sale since spring 2020, while some of the apartments in the second, purely residential, block SM3 will be for rent. In Smíchov, a true urban district with all the necessary amenities, an integral part of which will be pleasant public spaces, will be created.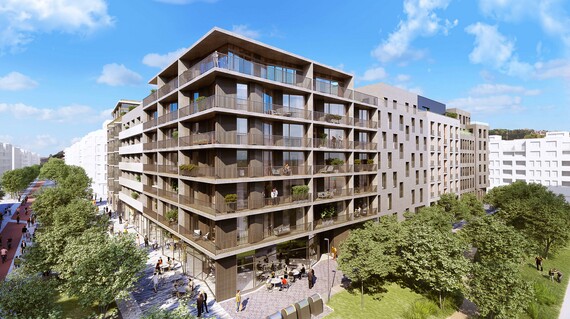 Diverse and natural
No monotonous architecture. Each of the buildings different from the other, not only in its typology, but also its form. In order to achieve the real atmosphere of an organically growing city and the internal diversity of the new Smíchov City – North, a number of domestic and foreign architects from seven renowned studios have participated in its design. Different approaches and building solutions guarantee that the new Smíchov development will excel in variety and uniqueness. Our goal was to achieve the natural visual diversity of an organically growing city. 
Leading architects
Smíchov City – North and its individual buildings were designed by the renowned studios that won an independent international architectural competition. The author of the urban planning concept and the corner-situated administrative building on Na Knížecí is the A69 – architekti studio. Future residents will live in houses designed by the Kuba & Pilař architekti, Haascookzemmrich STUDIO 2050, Chalupa architekti, LÁBUS AA - Architektonický, D3A and Projektil architectural studios.
You can take a walk around Smíchov City, the urban district of the future, today with our virtual tour here: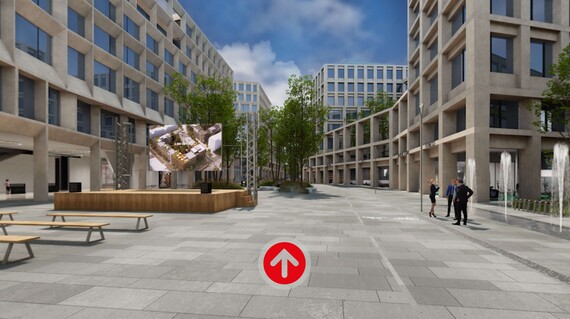 Ideal location
The traditional suburb of Smíchov is a popular, busy Prague district tailored to everyday life, entertainment and work. It lies in close proximity to the historical centre of Prague, with bus and train stations almost around the corner and Václav Havel Airport less than half an hour's journey away. Smíchov City – North also offers great accessibility by car and a direct connection to the Prague ring road, as well as all public transport options. Accessibility will be further improved by the construction of a new transport hub and the planned new terminal at Praha-Smíchov railway station.
City of short distances
Residents will find everything they need for a happy life at one place. Modern housing, a wide range of employment opportunities, shops, restaurants, services, civic amenities such as schools, medical facilities, and sports and culture.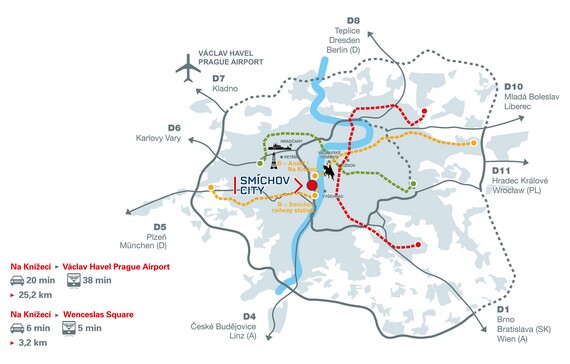 A quiet location full of greenery
The busy district of Smíchov will acquire new quiet places suitable for picnics and relaxation. Tree-lined streets will offer views of Prague Castle, the small church in Zlíchov and Vyšehrad, all close to the Vltava. Two hectares of green space will be added to Smíchov, as the residential part will be complemented by a park with an area of approx. 14 000 m2, nearly as large as the Wallenstein Garden, which will re-establish the link between the Vltava embankment and the surrounding hills. Smíchov City will be a multifunctional area full of greenery and life.
Expected completion of construction
The preparations and design of Smíchov City took fifteen years, during which the public also became significantly involved through its participation initiatives. Completion of the first phase of Smíchov City–North is planned for 2022.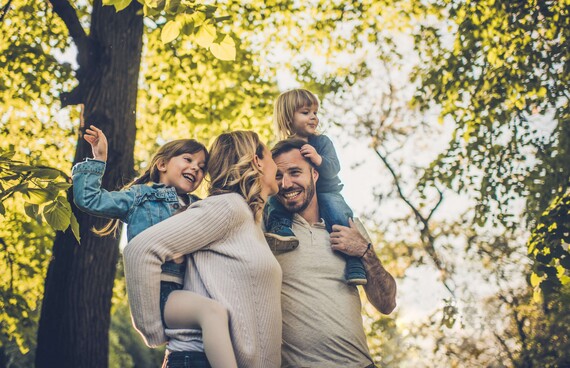 RESIDENTIAL HOUSES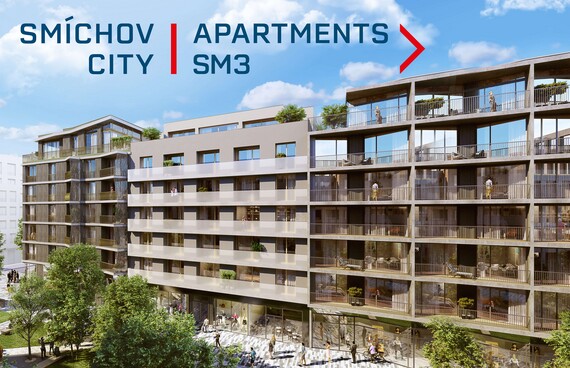 PHOTOGALLERY
Visualization Smíchov City – North