Smíchov City – SM3
Building SM3 offers comfortable housing near the new dominating feature of Smíchov City: a broad pedestrian boulevard, almost a kilometre in length and full of greenery, intersecting the Smíchov City development, which is currently being built. The diverse architecture of the buildings is a nod to the principles of an organically growing city. It goes without saying that the development includes ecological solutions, ideal transport accessibility and a large number of shops, parks and new public spaces.
Location: Prague 5, Smíchov, Na Knížecí
Area: 55 000 m2
Current project status: Project in preparation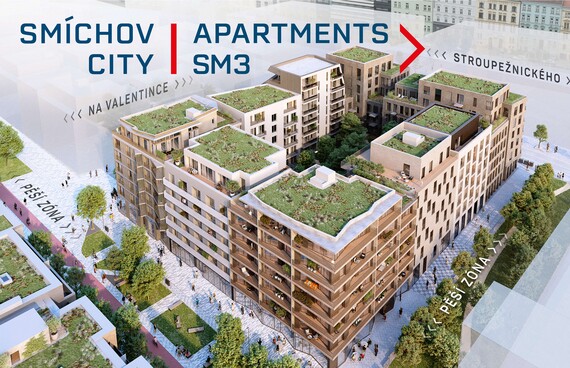 Rezidence Čakovice
This new residential project in the picturesque Čakovice district offers approx. 520 flats in 9 residential blocks, which will be built in several stages. It offers a sensitive, natural continuation of the existing buildings in Čakovice. The project offers quiet, peaceful residential spaces in modern flats with layouts ranging from studio flat (1+kk) to three-bedroom flats (4+kk) that are in harmony with the genius loci and atmosphere of Čakovice. The attractive locality has all civic amenities, including schools, nursery schools and restaurants, right next to Čakovice manor. Inhabitants of the new flats in Prague can look forward to pleasant, tree-lined alleys that seamlessly continue the existing streets. The buildings, with their high standard of living space, blend in naturally with existing buildings.
Location: Prague 9, Čakovice
Area: 62 719  m2
Current project status: Project in preparation