Rezidence Opatov
Introducing the Rezidence Opatov apartment building
The Opatov residential project will offer 300 apartments, most with patios, balconies or gardens, in a fully‑fledged urban district with all civic amenities. The project concept underlines the idea of natural living in a pleasant environment, with an emphasis on greenery and an overall urban atmosphere.
Layouts for all
The apartments on offer will appeal to a wide range of potential owners, and include layouts ranging from 1 room + kitchenette (1+kk) to 3 rooms + kitchenette (3+kk). Every apartment has its own cellar and for apartments larger than 45 m² is possibility to buy your own parking place for 402 500 CZK. The ground floor of the building accommodates five commercial units of varying sizes, with a wide variety of potential uses.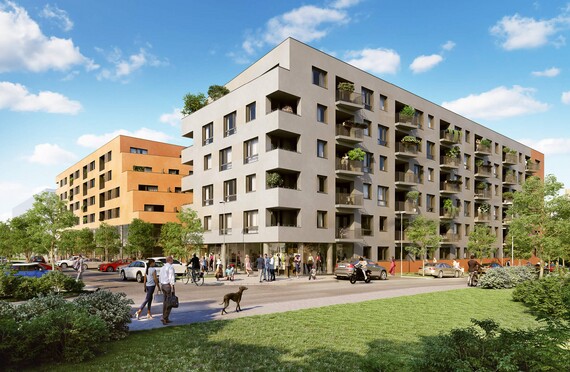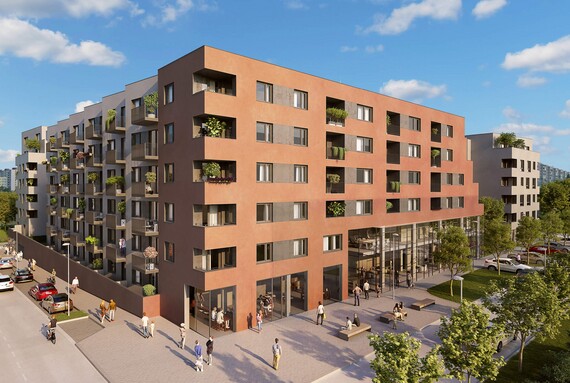 A word from the architect
Rezidence Opatov suitably complements existing buildings with its architecture and lays the basis for a new urban centre in Jižní Město. The great advantage of the development is that it is situated in an area where all civic amenities are already in place, and which has excellent connections to public transport and the city's road network. The quality of living is further underscored by the green enclosed atrium, which is fitted with a number of city‑forming elements, rounding out the pleasant environment.
Martin Kotík, Omicron‑K s.r.o. architectural studio
Urban architecture
Rezidence Opatov will be a quiet, yet interesting building with elaborate details and diverse architectural elements that will enliven Jižní Město. It will offer greenery in an enclosed atrium and high‑quality urban living in line with current trends and needs.
Great location
Rezidence Opatov is an integral part of a fully‑fledged urban district with all civic amenities, including shops, doctor's surgeries, schools, nursery schools and restaurants. A further advantage of the development are its perfect transport accessibility, with excellent connections to the public transport system and the city's road network. Rezidence Opatov is located near Opatov metro station and has a very good connection to the D1 motorway.
Bringing Jižní Město to life
The existing Jižní Město housing estate has a certain monotony and uniformity about it, which the architectural concept of Rezidence Opatov aims to liven up. It is one of the first buildings in the Jižní Město of the future to offer attractive buildings with retail space and apartments, giving the existing district a more "urban" feeling, rather than simply being a "housing estate".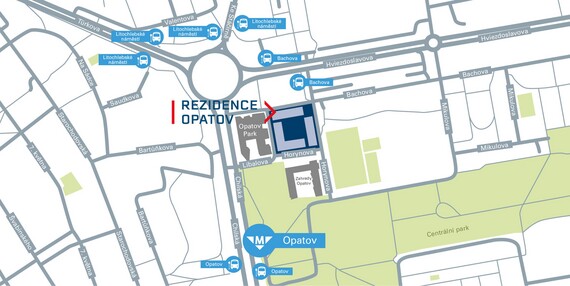 Safety first
Rezidence Opatov will be the ideal place for family and spending time with friends. The main entrance is from the metro station on the southwest side of the enclosed atrium, which will be adapted to allow children to play and people to meet. We are creating a safe place that is not isolated from everyday life.
Barrier‑free access and environmental friendliness
All apartments meet the requirements for easy, barrier‑free use. The building has a grade B energy performance certificate, meaning that it is highly economical. During the construction process emphasis is placed on an ecological approach that uses high‑quality materials, ensuring pleasant, trouble‑free living for future apartment owners for years to come.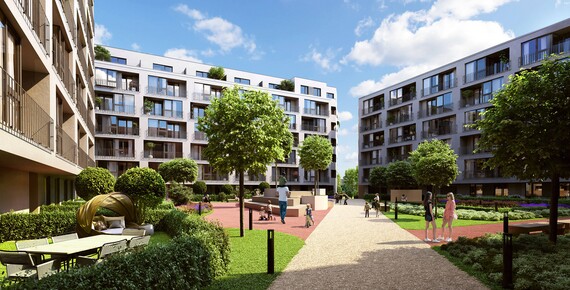 In the middle of a fully‑fledged neighbourhood
Rezidence Opatov is located in the immediate vicinity of Central Park in Opatov with a large selection of playgrounds and sports activities for both adults and children. The Mikulovka sports complex and the pitch of Dukla Jižní Město football club, as well as a primary and nursery school, are all within walking distance. For lovers of active leisure, the area offers nature walks in the nearby Botič-Milíčov and Hostivař-Záběhlice parks, with the possibility of swimming in the Hostivař Reservoir, or a visit to the Hostivař Wild Garden or Milíčov Zoo.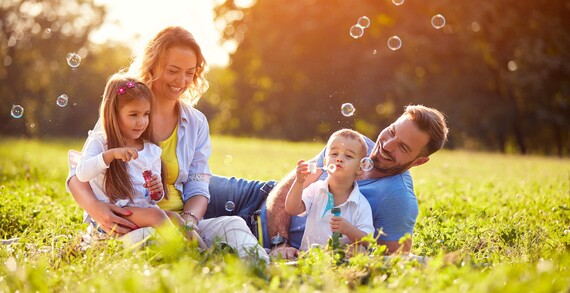 Visualization Rezidence Opatov